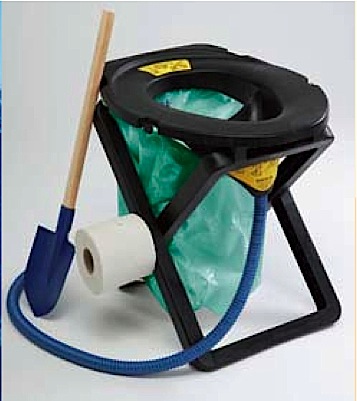 The Rescue Kit makes portable sanitation easy. The folding stand attaches o a urine diverter seat that drains urine to a hole you can dig with the handy mini-shovel (included). Or, drain it to an empty 1-gallon container, such as a milk jug or bleach bottle to empty elsewhere. Solids drop to a biodegradeable bag, which can be composted, discarded, buried, or burned. A roll of 10 bags are supplied with each Rescue Kit. The kit also contains a roll of toilet paper, and wet-dry wipes to clean hands.
New: A lid is now included with each Rescue Kit.
Perfect for camping, RVs, events (including Burning Man), earthquakes, and emergency situations. UNICEF recently purchased thousands of Rescue Kits for disaster situations where easy, portable, clean, and non-polluting sanitation is needed.

Price: $139
+ $22 UPS shipping in the continental U.S.

Click here for ordering information